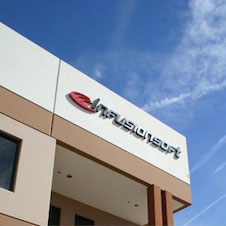 Maybe it's our entrepreneurial culture, superb service or our powerful marketing automation software. The answer: all the above. I'll share five solid reasons why Infusionsoft is the right answer for millions of small business owners who want to grow their business and achieve freedom they desire.
If you have Infusionsoft, you already know about these, but I want to let the secret out about us. I'm sure you'll understand.
1. Sweet Software as a Service
First, let's start with our software. Without it, none of us would be here. Infusionsoft is a marketing automation software for businesses with fewer than 25 employees. It has a powerful CRM that can store just about any type of data you want in it. To make the CRM "smart" you would configure follow-up sequences and triggers so it can maneuver a customer through your business processes without any heavy lifting. Toss in our best-in-class email marketing features and it's possible to send truly targeted, segmented and relevant email messages to customers and prospects. Oh, and did we mention that it's updated and managed by smart folks who backup and keep your data safe and secure? Yeah, we got that covered, too.
The bottom line is that Infusionsoft can enable your small business to run successful email marketing campaigns and automate many processes in your business in one solution. No more bolt-on "integrations" that result is lost resources and chaos in your business. See how we stack up to other solutions.
2. Intellectual Capital & Stability
Infusionsoft is a stable company. Backed by two experienced investors – Mohr Davidow Ventures and vSpring – they know a thing or two about funding valuable, feature-rich companies. Our roots date back to 2001, but the Infusionsoft you know of today dates back to 2003. Our leadership team is best of breed who is in touch with our users, the industry and all our employees. This matters to entrepreneurs … they don't want to invest their time, resources and money into a company only for it to bomb and disappear weeks later. The bottom line is Infusionsoft has been here for the past decade and we see many more decades ahead of us.
3. Rockstar Customer Service
Our most valuable asset here is our customer service team. They take care of Infusionsoft users like no other software company would. Unlimited live support -at no charge- is a nice perk that goes along with our marketing automation software. They help customers not just with using the software, they put entrepreneurs on a successful path as they grow their business. We aim to provide the very best support that can't be duplicated via our friendly customer support team. With over 94% of users giving us a "thumbs up," we're proud of what we have going on … and so our users.
4. *Our* Company Culture
Walk into our offices and in seconds, you'll realize why you receive such stellar service from us. Our company culture is there for a reason. Beyond attracting great employees, it's there because in our blood. We work hard and play hard. It's a fairly simple concept, but if you reward your employees, they reward your customers and … if everything's right … they reward the company. It's not just the 330 horses for employee of the month, the endless cereal, the football field and basketball court – the company is actually built on meaningful values that's attractive to existing and prospective employees. All our decisions are measured against our Core Values (Entrepreneurship, Authenticity, Integrity, Passion and Compassion). This is meaningful and gives a sense of unity and community in the office. Infusionsoft invests in its company culture to drive the optimal customer experience across the organization.
5. We're Not Done Yet …
Everything you've seen from Infusionsoft is just the beginning. We're innovating many more attractive and compelling features into our software in the coming months and this will result in an 'infusion' of awesomeness for small business owners. Our users expect it and we demand it. All users receive superior quality software, top-notch service and trust knowing their marketing automation software company is looking out for them.
If you hadn't had the chance to experience Infusionsoft yet, it's time you should. We have a free trial of our marketing automation software. We have a sweet demo that shows you a little more about what we do. We're social, too: Add us to your Facebook, follow our extraordinary updates on Twitter or watch some videos of us on YouTube.